The word "NIVOSE" (pronounced "NEE-VOZ" in French) came from the French Republican Calendar created during the French Revolution in 1789 to symbolise the new age of liberty. "NIVOSE" was the name of the first month of the winter quarter and marked the beginning of winter. The month Nivose was named after the Latin word nivosus, which means snowy. It was followed by the months of Pluviose and Ventose. It reminded people of snow, mountains, winter and peaks, and the word itself was powerful and evocative.
"LE VÊTEMENT CHIC DU VRAI SKIEUR"
The brand NIVOSE was founded in 1933 by the company P. Marche-Roche in France's second largest city:Lyon, at the bottom of the French Alps. In the early 1930s, fashion for winter sports was gaining popularity and NIVOSE became a prominent brand with a select clientele by creating "Authentic elegance for the true skier". NIVOSE was not the first ever ski brand to emerge during that period, but it soon became one of the leading names in that category.
Unsurprisingly, it became a prominent brand within the winter sports fashion market and was appointed the official supplier o winter gear to the Frenchm Himalaya expedition in 1936.

Later in 1938, it supplied the Lapland expedition team with ski wear and thermal clothing. That same year, it also became the official supplier to the French National Ski School. Through-out these years, NIVOSE continued to create iconic designs that were sophisticated and elegant to keep people well equipped on and off the slopes.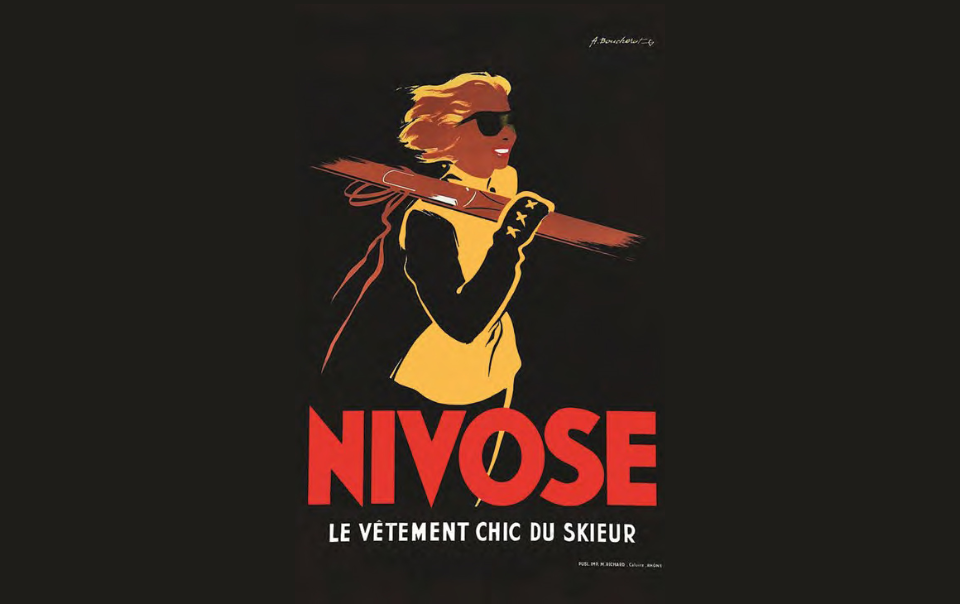 One of NIVOSE's greatest strengths was its advertising, which had a distinct style and was based on simple and powerful messages. Throughout the years, NIVOSE collaborated with different illustrators and artists. One of them was Karl Machat-schek, a man of many talents who was also an exceptional skier, a draughtsman for advertising, a photographer and a lithographer. He created the outstanding NIVOSE poster for NIVOSE in 1934 under the artist name "Kama".
A NEW BEGINNING
Whilst rooted in the heritage, and after a long history of creating Authenic Elegance for the True Skiers, NIVOSE is now ready to enter a new exciting chapter bringing Mountain Chic to the world thanks to the minds of passionate French connoisseurs who truly appreciate what this lifestyle stands for and are ready to embrace what the future holds.